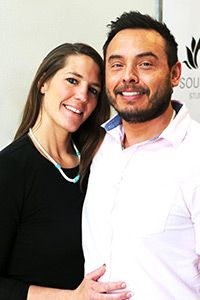 Living your life in balance is no longer a struggle at our Chiropractic Wellness Center. We provide chiropractic care, yoga, meditation, massage, acupuncture, reiki, and chiropractic therapy all under one roof.
In order to bring more holistic, meaningful change to our patients we want to solve three problems; lack of time for self-improvement, western medicine not providing enough preventative measures, and the disconnection from the use of technology. By bringing more collaboration and complementary services under one roof we can conquer all three problems to bring real, lasting positive change to our patients and this world!
We believe in bringing mind, body, and spirit health to the forefront of our community in a thoughtful and convenient way. Time is precious so we have created a space where you can seek chiropractic care, chiropractic therapy, get a massage or acupuncture, join a yoga or meditation class, and reap the benefits of reiki all under one roof.
When you walk through our doors you will be welcomed with open arms. Our patients and clients are our extended family. We have been in business for several years as Chironow Loveland which was family owned and operated. We've built up our business by truly taking the time to connect with each patient and addressing their chief complaints. Dr Ryan has helped heal thousands of patients by using his expertise and training. We wanted to provide more than just chiropractic care and yoga twice a week so we felt it was our time and calling to open a holistic wellness center in replacement of Chironow Loveland so patients could truly thrive. As Mahatama Gandhi says, "we must be the change we wish to see in the world."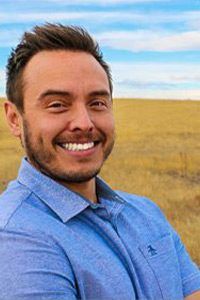 Chiropractor: Dr. Ryan J Enriquez DC
My name is Dr. Ryan Enriquez and I'm a graduate of Life Chiropractic College West, which is located in the San Francisco Bay area. During my time in the Bay area, I was awarded multiple clinical awards for patient care. I am dedicated to serving the Northern Colorado community with the chiropractic adjustment and principle, and I'm always striving to improve my skills and understanding of the human body. I am certified in Rocktape's Fascial Movement Taping 1 & 2, and I am trained in techniques such as MLS, Upper Cervical Knee Chest, Activator, Thompson Drop Table and Diversified — just to name a few. My skill set can accommodate any patient, ranging from the young and healthy athlete looking to improve their performance to the person who suffers from chronic pain and is ready to live a normal life.
Using modern techniques and a stylistic approach to chiropractic, I provide a comprehensive and focused care plan that is as unique to the individual I am working on. My style was honed and developed from working alongside the Oakland Athletics' Head Team Doctor and LCCW professor. By using a non-invasive approach of adjusting the spine and extremities, combined with adjunctive soft tissue therapy and Rocktape, my goal is to decrease pain and achieve better movement with each patient. Instead of focusing on symptoms alone, I look at the whole body from a bio-mechanical and functional standpoint to properly diagnose and stop the repetitive injury cycle.
I enjoy spending my spare time with my family, hiking, working out and exploring all the fun and beauty that Colorado offers!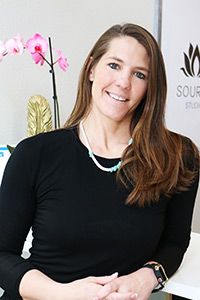 Yoga Instructor: Amanda Kellogg-Enriquez
Namaste, my name is Amanda Kellogg-Enriquez. I am a yoga teacher and co-owner of Source Studio. I started my yoga and meditation journey 13 years ago. I felt tired, unbalanced and wanted more out of life. I was also dealing with recurring injuries from my duathlon and triathlon days while battling a Lupus diagnosis. I seemed to wake up feeling negative, frustrated, and truly lost. I began to suffer from anxiety and depression.
I did some serious soul searching and started taking yoga and meditation classes.
I felt drawn to the spiritual and body healing they provided. I began to notice subtle changes in my overall outlook on life. The almost-crushing joint and muscle pain began to shift and slowly subside. I noticed that on the days I would practice yoga and meditation I felt more present, healthy and grateful. My mind and body began to crave the stillness and movement of yoga and meditation. I knew that one of my life purposes was to share these gifts with others who share a similar story.
I graduated from Holistic Yoga School in Fort Collins, Colorado. This is a highly accredited program and in 2018, they won the "Expertise" award. I completed the 200-hour Intensive Training Program. This was one of the most challenging yet rewarding months of my life! I would like to continue my education in the near future with an additional 300-hour program. I am (RYT) certified and registered with Yoga Alliance.
My husband and I own Source Studio in Loveland, Colorado. Within the next nine months, we will open a wellness institute that will provide chiropractic, yoga, meditation, acupuncture, massage, and hopefully, IV drip therapy. We believe in providing affordable holistic healing to those who want mind, body, spirit balance and health. Wellness and healing begin when we decide enough is enough and start believing we have the power to change our lives.
Say hello and take a yoga class with me at Source Studio today! Our yoga studio in Loveland offers gentle and restorative yoga classes for individuals of all levels.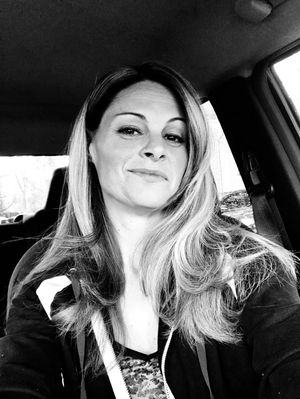 Melanie Lewis – Licensed Massage Therapist
Melanie graduated from the Healing Arts Institute-Fort Collins, CO in 1999, earning a degree in Therapeutic Massage. Mel also Graduated from The New Zealand Massage College in 2003 earning a degree in Medical and Neuromuscular Massage. Prior to becoming a massage therapist, she worked for Foothills Gateway which is a non-profit company helping mentally and physically disabled adults.
After graduating from Massage School in Fort Collins, she had the opportunity to move to Auckland New Zealand, and so blessed she did! She started her massage career with Equipoise Day Spa and worked her way through studying Medical and Chinese Cupping modalities, she then was ready to offer more of a therapeutic and sports approach. Mel landed an independent contract job working with the rugby players in Auckland NZ. This is where her career and knowledge really came into play! She loved every second of this work and learned from the other seasoned therapists.
Mel loves to learn and has many different types of techniques to help customize each of her patient's needs. Mel is the therapist that wants to find the root cause of the injury or problem! She specializes in many modalities such as Corrective bodywork, Bamboo massage, Chinese cupping therapy, Guasha scar tissue release, Deep tissue, T-Bar therapy, Medical massage and soon to have Advanced Medical Massage. She will also be graduating from learning a specialized technique called Metamerics an approach to help Autoimmune Disorders. She also has the gentler side of massage for Relaxation, Swedish, and Pregnancy massage. Mel has been licensed with the Cold laser since 2009 and vacuumed therapy which helps diminish cellulite. Lastly, Melanie just finished her courses and became a certified canine massage therapist as she adores all animals.
Mel is very passionate about the work she does and can help each person feel relaxed and heard. She has 23 years of experience and knowledge with massage and 18 years of Chinese cupping therapy. Mel hopes to give 20 more years of therapy to all that need help out of pain and to help clients with autoimmune diseases. Melanie looks forward to becoming your therapist. :)